Julie Skye
You don't see this every day...
This was the headline we were greeted with after the market closed today:
"The Dow dropped more than 800 points in one of the worst sell-offs since February as investors worried that sharply rising interest rates would constrain the nation's historic economic expansion.
Higher rates tend to moderate economic growth and make borrowing more expensive for the U.S. government as well as businesses and consumers. The 10-year U.S. Treasury yield, a key benchmark for rates, has been spiking and is now at 3.2%, one of its highest levels since just after the Great Recession. Rates on many types of loans, such as those for mortgages and cars, tend to be tied to the government bond.
Traders rushed out of stocks that have been driving the economy, namely big tech. Netflix was down more than 8 percent, Amazon was off 6 percent, and Apple and Google were both down more than 4.5 percent. Meanwhile, safe bets such as utilities and consumer staples were the only positive notes in the sell-off."
If you click on the link below it will open the chart for the weekly S & P 500 price moves. Look at the top right and you will see a red "bar" (technicians call it a candlestick)...showing how much the stock market went down today! Yikes!
https://screenshots.firefox.com/yfeIbEzd8SjvL4gU/app.technicianapp.com
Technician - Real-Time Stock Charts for Mobile and Web screenshots.firefox.com From app.technicianapp.com




Since you don't see an 800 point decline every day you have to be asking; "Is the bull market over? What do I do? Where do I go from here?" Stock prices have come a little too-far-too-fast. Interest rates have been on the rise. Tariffs are cutting into company earnings for companies like GM and there are hints we'll see layoffs. Global growth is inching lower. Companies like Amazon are increasing wages...which will clearly cut into earnings. I'm relieved we've finally gotten this sell-off as many of you have way more cash than I typically want to hold. I just have NOT been able to buy the overall stock market as the charts clearly indicated we would be buying at too-high-prices. At the same time, I wasn't quite ready to increase your bond allocation as I wanted to see 10-year bonds move closer to 3.5%...so we sat on cash. Thank you for your trust and confidence in me, knowing that I've brought you through times like this many times! Is it over? Do we buy tomorrow? The next few weeks will tell if this is a Market Event (so a time to buy stocks) or if it is an Economic Event (time to reduce stocks and buy bonds). The real answer to this question is in the 2018 earnings of the S & P 500: estimated earnings have declined from $161.5 to $161.26. Just a smidgen...not a big deal...nothing to worry about. The reality is the market can easily absorb the higher interest rates the Fed has been handing us ONLY if the economy continues to grow.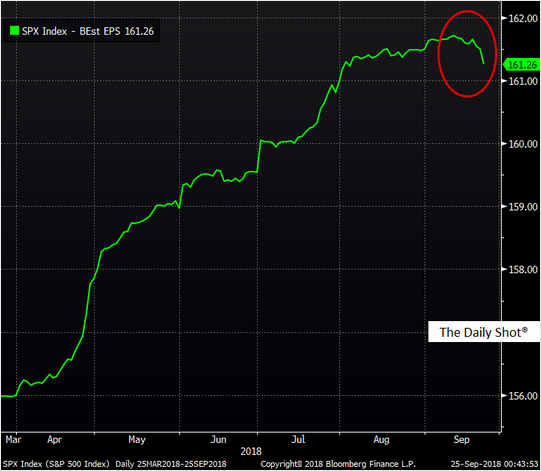 The good news is we are now taking a bit of a breather...letting the hot market cool off and waiting for lower stock prices and higher bond yields. If you have been wondering when I'd get some of your cash invested you can smile and know...we are just fine. Relax and feel smart that we don't blindly follow the crowd up...or down.
Expect for tomorrow to be a rough day...the market has opened in Australia and their market is down hard. Japan is about to open, and it is ugly there.
Please call with questions or worries. Don't hesitate to spend time reviewing your stock exposure and whether we should trim some earnings just to help you rest a little easier if it gets worse: it is NOT too late to sell.
AND please let me know if you will be needing cash in the next few months so we don't have to sell into weakness.